Week 14 TNF Preview – Oakland Raiders at Kansas City Chiefs
This week's Thursday Night Football features two teams jockeying for 1st place in the AFC West. The Oakland Raiders (10-2) travel to take on their dreaded rivals the Kansas City Chiefs (9-3). Man do I hate the Chiefs. If there is one team who gets in the way of other decent teams, it is the Chiefs. We see the same shit out of this team every season. Decent defense with an offense lead by a man with the arm strength and hand size of a 6 year old. Alex Smith reminds me of the dude off the Burger King commercial who's hands were too small to enjoy a delicious flame broiled Whopper (see photo below). I mean shit, the furthest I've seen this man air it out has to be no further than 15 yards down field. I'm well aware that as I write this somehow this small-handed son of a bitch is going to set a single-game passing records against a weak Raiders defense lead by Reggie Nelson and Sean Smith who couldn't keep up with Khalil Mack in a foot race. At this point, I'm convinced Khalil could play safety and that would solve Oakland's problem of shitty secondary play. Or would it? Probably not. Ken Norton Jr has been using what seems to be the Madden 95 defensive playbook.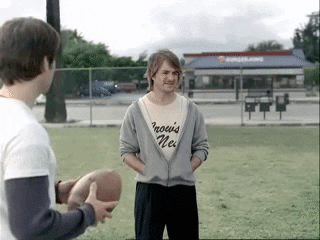 Last week both the Raiders and the Chiefs beat their respective opponents. The Raiders beat the Buffalo Bills in usual Raiders fashion by managing to sleep walk through the entire first half then somehow come alive to score 29 unanswered points to close out the game. That's right Bills fans. You have two supposed defensive gurus in the Ryan brothers running your team and they can't seem to find a way to keep teams from scoring 30+ on them any given week. The Chiefs went on the road to beat the Atlanta Falcons with an intercepted 2 point conversion attempt. Chief fans, you owe Eric Berry a blowjob because he single handedly won you that game. It wasn't your well-oiled mediocre offense that willed the team towards victory. It was one man who beat cancer. And you should be so honored that he's on your team. Enjoy it while it lasts. You won't be able to afford him next year.
The game will more than likely be tough and sloppy just like that one whore you hooked up with in college. You know the one I mean. Oakland will have their work cut out as they will be playing on the road with a short week of rest. The weather may become an issue as well. Derek Carr and company won't get to enjoy that beautiful, crime filled Bay Area weather this week as Carr is still recovering from a pinky injury. I hate the Chiefs but I like them in this one.
Wilson's Prediction: Chiefs by 2 but God I hope I'm wrong